Product Name
Price
Delivery
Qty
MR SILENCE Heat Pump SC947 - 9 kW
Cód.ASTRSC947
MR SILENCE Heat Pump SC948 - 11kW
Cód.ASTRSC948
MR SILENCE Heat Pump SC949 - 13kW
Cód.ASTRSC949
MR SILENCE Heat Pump SC954 - 15kW
Cód.ASTRSC954
MR SILENCE Heat Pump SC950 - 17.5kW
Cód.ASTRSC950
MR SILENCE Heat Pump SC951 - 21kW
Cód.ASTRSC951
MR SILENCE Heat Pump SC952 - 28kW
Cód.ASTRSC952
MR SILENCE Heat Pump SC953 - 35kW
Cód.ASTRSC953
Product Description
Mr. Silence by AQUAFORTE by FLUIDRA, It is one of the quietest pool heat pumps in the world.
Thanks to the revolutionary FULL INVERTER DC Stepless system, the heat pump's noise level is as low as that of a refrigerator.
The intelligent management of the compressor, fan and pressure system provides incredible performance and energy savings, with an average coefficient of performance (COP) of 10, which can reach 15 at peak performance.
Allows twice as much energy savings as traditional ON/OFF systems, maintaining the pool temperature 95% of the season, the pump runs at 50% capacity, which provides better performance, energy savings and a quieter pool environment. your pool.
Characteristics:
Compressor: Mitsubishi INVERTER Twin-Rotary.
EEV Technology: Allows you to adjust the gas flow 10 times more flexibly and increase the COP by up to 20%.
Inverquark technology: quieter and more economical, it allows the use of 90% of energy from the ambient air.
Total electrical protection: Through the INVERTER DC, the system starts at 0 A with a constant nominal current.
Automatic defrosting through cycle inversion.
Braided titanium heat exchanger: 40% more efficient than standard titanium heat exchangers.
Digital LED touchscreen for heat pump control.
Wi-Fi control via the InverGo APP.
Air temperature operating range: -10°C to 43°C.
Heating temperature setting range: 18ºC to 40ºC.
Ecological refrigerant gas: R32.
Sound level: average of 43 dB(A) at 1 m distance.
"
Specification
CARACTERÍSTICAS TÉCNICAS

MODELOS

SC947

SC948

SC949

SC954

SC950

SC951

SC952

SC953

PERFORMANCE: AR 27ºC / ÁGUA 28ºC / HUMIDADE 80%

POTÊNCIA FORNECIDA*

kW

9

11

13

15

17,5

21

28

35,2

COP

14 - 7,2

14 - 7

14,5 - 7

15 - 7

15,6 - 7

14,8 - 7,1

15,8 - 7,1

15,5 - 7

COP MÉDIO A 50% DA VELOCIDADE

10,5

10,3

10,5

11

11

11

10,8

10,5

PERFORMANCE: AR 15ºC / ÁGUA 26ºC / HUMIDADE 70%

POTÊNCIA FORNECIDA

kW

6,6

7,7

9

10,5

12,5

14,5

19

24,2

COP

7,5 - 4,8

7,3 - 4,7

7,5 - 5

7,7 - 4,9

7,7 - 5

7,1 - 5

8 - 5

7,5 - 5

COP MÉDIO A 50% DA VELOCIDADE

6,5

6,6

6,4

6,8

6,6

6,6

6,5

6,6

CARACTERÍSTICAS TÉCNICAS

VOLUME MÁXIMO PISCINA

m3

20 - 45

30 - 55

35 - 65

40 - 70

40 - 80

50 - 95

60 - 120

85 - 160

CAUDAL MÉDIO RECOMENDADO

m3/h

2 - 4

3 - 5

4 - 6

5 - 7

6 - 8

8 - 10

10 - 12

12 - 18

LIGAÇÃO HIDRÁULICA

PVC Ø 50 (colar)

ALIMENTAÇÃO ELÉTRICA

230V/1/50Hz

400V/3/50Hz

INTENSIDADE ENTRADA

A

0,83 - 5,98

0,96 - 7,13

1,13 - 7,83

1,22 - 9,32

1,44 - 10,9

1,66 - 12,7

0,71 - 5,51

0,95 - 7,01

TAMANHO CABO ALIMENTAÇÃO

mm2

3 x 2,5

3 X 4

5 X 2,5

PRESSÃO ACÚSTICA A 10m

dB(A)

16,8 - 26,1

16,6 - 27,9

20,1 - 28,7

19,3 - 32

21,1 - 31,8

18,9 - 32,2

21,5 - 32,9

20,6 - 32,6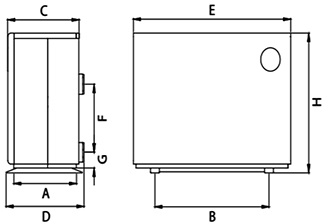 MODELO

PESO (Kg)

A

B

C

D

E

F

G

H

SC947

410

645

404

440

890

250

75

658

53

SC948

410

645

404

440

890

290

75

658

55

SC949

410

645

404

440

890

280

75

658

57

SC954

410

645

404

440

970

320

75

658

61

SC950

410

710

404

440

1060

320

75

658

66

SC951

410

710

404

440

1060

460

75

758

72

SC952

410

710

404

440

1060

640

75

958

96

SC953

492

950

485

512

1314

650

75

958

130
Documents
Videos